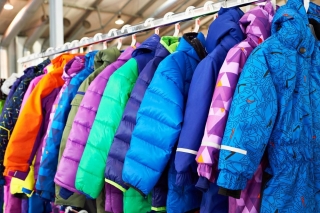 Every day that our Charity Shops are closed during the lockdown we are losing essential income, so we are appealing for funds. To make the best of the situation, our retail students are donating winter clothes to people in need. Please donate now
The Harington charity shops closed in December and are unlikely to be open for a few weeks. This means we are unable to receive any donations, sell any clothes, books or other items. The students on the retail programme are learning at the Hornsey Training Hub but of course, aren't able to gain practical experience. Our staff are on furlough and missing work.
We have a lot of winter jackets and coats and sweatshirts which are gathering dust. So, we have chosen to link up with the local community. Trustees have decided that winter clothes will be donated to families in need through the foodbanks and to hostels.
The Harington with its two charity shops and sites at Highgate and Hornsey is well established in the community. We are fortunate to be able to continue providing learning and training opportunities for students, albeit without our usual presence in the community. We have had a long relationship with Highgate Newtown Community Centre and one of our students is volunteering at the foodbank. He says: 
"It's nice to meet new people and to see them happy and grateful."
We have started sorting through our winter stock and we will donate to organisations that support people in need. This week students on the retail programme began this work, and this is what they said:
"We all should help people who need help and treat each other fairly and equally". Y
"It feels good when we help each other." F
Our plan is to raise funds for the Harington and at the same time give winter clothes that we can no longer sell to those in need. We have plenty of excess stock. We are looking to donate about 100 - 150 items of winter clothes. We would normally sell coats and jackets for between £10.00 and £20.00 each but we expect to be closed for most of the winter and we know people need support now.
This year will be hard, we rely on sales from the shops to support The Harington and of course, we are unable to hold our usual fundraising activities. Our shops make sales of about c£20,000 a month.
Your support will help us and at the same time help others in need.