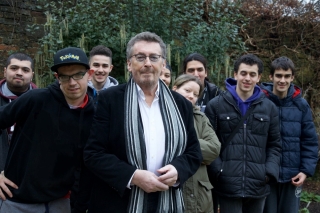 THIS EVENT IS NOW SOLD OUT. YOU CAN STILL DONATE TOWARD OUR HERBIE HUT CLICK HERE 
Actor Robert Powell will be appearing in his one man show "Charles Dickens: A Life" on Sunday, March 12 at 7pm at Upstairs at the Gatehouse, Highgate Village, N6 4BD followed by a Q & A on the acting world and his distinguished career in films and television. The evening is in aid of the Harington Scheme and the money raised will go towards installing the 'Herbie Hut', an extra classroom which will be housed in a bespoke shepherd hut in the scheme's Cholmeley Park grounds in Highgate.
Tickets cost £20 (to include a glass of wine) available from Upstairs at the Gatehouse Box Office in person or by phone:  020 8340 3488 (credit/debit card fee 50p).
Former actress Fiona Walker is a volunteer at the Harington Scheme and she is donating part of the cost of the shepherd hut in memory of her late husband, the renowned film and television director, Herbert Wise.  Additionally Robert Powell is generously waiving his performance fee and John and Katie Plews of Upstairs at the Gatehouse are giving the theatre space in support of the appeal.
Fiona Walker and Herbert Wise used to own a cottage in Winwick, Northants, where Tithe Barn Shepherd Huts is located.  Proprietors Phillip and Sally Bradbury are exclusively producing the 'Herbie Hut' for the Harington; it will be handcrafted from solid timber with vaulted ceiling beams set on cast iron wheels and is the perfect size for a small classroom providing much needed extra space and warmth. www.shepherd-huts.com
If you are not able to attend the event, but would like to donate to this project, please visit: