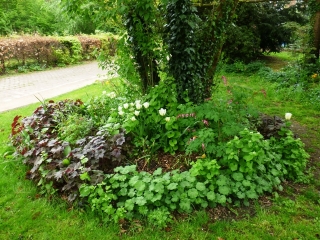 We are delighted to have been awarded a contract, until March 2014, to run an exciting project based in the garden at the rear of Bruce Grove Youth Centre. The Harington Scheme, together with Haringey Council, will be running a part time gardening course, Thursdays 10am  - 3pm, for young adults with learning difficulties/ disabilites.
Working with 8-10 young people, and other gardening groups at the centre, we will transform the garden, that is currently underused, into a space that centre users can really get the most from. Work has already begun to change the area into a wild life garden with the prospect of incorporating natural play, including an area to grow fruit and vegetables.
We aim to provide work experience with accredited horticultural training and progression support to the participants thus increasing their employability. We hope to promote food and plant growing amongst local young people and encourage interest in nature conservation whilst increasing the biodiversity of the site. 
If you are interested in this project please download the information poster or get in touch on 020 8341 3657 for further information.  There are still places available on the course that start on 6th June 2013.