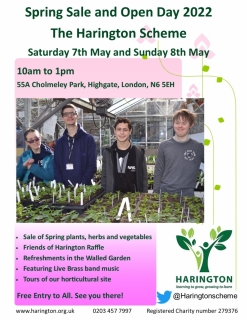 Dates: 
Saturday, May 7th and Sunday May 8th, 2022 - 10:00 to 13:00
Join us for our Spring Sale and Open Day. It is always such a lovely event so this year we have decided to run it on two dates. 
For sale we have a lovely selection of spring plants, herbs and vegetables. The London Metropolitan Brass Band will perform a selection of favourites, and there will be a raffle and refreshments provided by the Friends of Harington.
It's a great opportunity to visit Harington and meet staff and learners, as well as stocking up on your spring plants, we look forward to seeing you there:
The Harington Scheme
Rear of Furnival House
50 Cholmeley Park
London N6 5EW