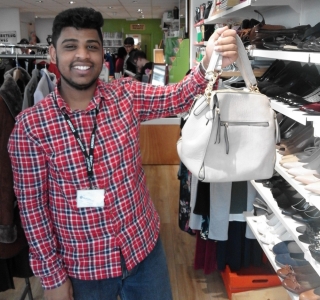 This exciting new project will see the creation of a new training and employability hub for young people with learning disabilities in the heart of Hornsey High Street, N8.
We have been successfully running retail training for a number of years but the programme is over-subscribed and we have run out of space at the Highgate site.
The Harington Charity Shop on Archway Road was launched in 2015 to provide work experience for our learners. The shop is doing really well and many learners who started work experience there have gone on to gain work experience and/or paid employment with major high street retailers including Waitrose, Asda and the Co-op. However the Archway Road shop is a small site and we have more learners needing retail work experience than we can accommodate. 
For these two reasons, we have decided to expand our employability training programme and set up a new training hub.
We have taken on the lease for a triple-fronted shop on Hornsey High Street N8 (the old auction rooms) which is perfect for this use.  We opened two units as a charity shop in July and we plan to set up the remaining space as a training suite. This will give us capacity for up to fifty work experience placements per year and offer additional retail courses. It will also introduce Harington to a new audience of potential supporters in Hornsey, which will be great for the charity longer-term.
We have completed the first phase of the project, the shop is open and becoming popular locally.  Our new intake of retail students will start work experience placements as soon as they are ready. Phase two will be the development of the training suite, which is a more expensive and complex project.
We are currently fundraising to secure the remaining £85,000 needed to deliver the second phase.
How you can you help
Harington benefits enormously from the support of the local community and we would be very grateful for your support; every donation no matter how large or small will help. Please pledge your support for this fantastic new initiative and click here to donate today.
If you would prefer to fundraise by setting up an event, taking part in a sponsored activity, or any other fundraising ideas we will be happy to support you; please call Simon to discuss on 020 3457 7997 or email simon.tye@harington.org.uk
If you would like to donate goods or would like to find out how to become a volunteer at the Hornsey or Archway Road shop, please call or email Simon.