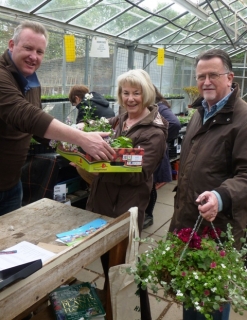 Spring Sale raises £3,300! 
Many thanks to all staff, learners, Friends and visitors to the Spring sale and open day on 11th May 2013. It really was a great day, we made £3,300 which will go towards supporting our work over the next year and the learners got to see their work come to fruition.
Joanna Baxter, Scheme Manager, said "It was a fantastic open day with a really good atmosphere and some amazing cakes. We sold lots of plants and the learners worked really hard helping all our customers and best of all it didn't rain!".
If you weren't able to make it along to the sale you could pop along to the Harington stall to pick up some plants, it's in Pond Square on Thursdays, 11am-1pm.