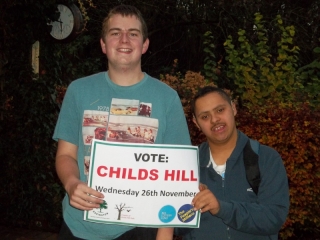 Great news! The Friends of the Childs Hill Park and The Harington Scheme have teamed up and designed a new community marsh garden for Childs Hill Park. We have reached the final round of The Big Lottery People's Millions competition. That means we are in line for a £50,000 grant which would enable us to construct this new educational marsh garden.
Who will benefit?
The local community who will see a flooded area of the park replaced with a beautiful garden.

Local school children who can use the garden as an open air classroom to get closer to the natural world and learn about the special environment of a marsh habitat.

Wildlife; the marsh plants will attract frogs, newts, birds and butterflies to the park.

Disadvantaged young adults being trained by The Harington Scheme who will construct and maintain the garden alongside community volunteers.
How can we win?

The project will be put to a public telephone vote on 26 November 2014. The telephone numbers will be available on The People's Millions website from 9am on the day of voting and will also be published on 26 November in the Daily Mirror. Every vote will count!
How you can help before the vote?